Since I was a kid, my mom taught me to finish my meals. I asked her why? She said that it's not good if we waste the food and every pieces of rice which are left on our plate will cry. Sounds silly right? But as a child, I believed that and I tried to finish my foods. Now, I am mature and of course I know that the rice can't cry but my mom is not completely wrong. For me it's very philosophical, the point is we have to appreciate food and people who made it come to our plate. It's not easy for my mom to buy the foods, she works hard. In spit of that, at home I always take an appropriate portion of foods and I try to finish it. If I really can't, I'll save it to give it later to my dogs. When I buy foods outside, I'll think what I really want to eat and I'll finish it.
I was curious about my friends' foodprint. Then, I did a little survey to several friends by some social medias that I use. The questions are: "Do you always finish your meals or not? If not, what are the reasons?" Seventy-nine friends kindly responded my question honestly. From those 79 answers, I divided it into two categories: "Indonesian*" and "European*" based on my friends' nationality because I wondered if we have different habit of eating. The result's 76% of 42 European friends always finish their foods, 10% of them not and 14% of them admit that sometimes they waste. Meanwhile for 37 Indonesian friends, 62% of them finish their foods, 22% often waste food, and 16% of them admit sometimes waste foods with some reasons.
A majority of my European friends replied that they don't like to waste food. When I asked why, they answered "
Because foods are expensive and there are many people who can't eat
". They also added that they always
THINK
what they want to cook and
EAT
and if they can't finish it, they
SAVE
it for later so that they won't waste the foods & save money. Some persons replied that they were raised in poverty so now they really appreciate foods. Many of my Indonesian friends said that they didn't finish their meals because they were already full or the taste wasn't delicious because they bought the food on the street. Contrary, they who finish their meals argued that on their religion (Islam) we're not allowed to waste our food.
Well, if we can eat everyday, it means that we are lucky! O

ne in every seven people

all around the world go to bed hungry and more than 20,000 people die of hunger EVERY DAY. If we can't feed hungry people, why we don't just take attention to our foodprint? In Indonesia, they are many needy people who can't buy rice of 0.88 USD

per kilogram so they buy wasted and parched rice with only 0.21 USD.

Environmentally, food waste leads to be
rotting food, and it creates more methane – one of the most harmful greenhouse gases that contributes to climate change.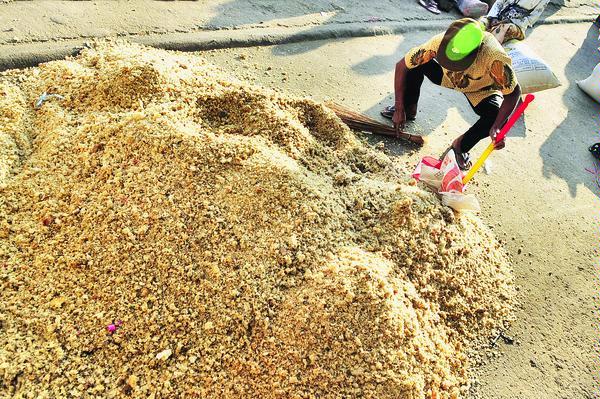 A merchant collects "nasi aking" or wasted and parched rice in Central Java
(source: http://regional.kompas.com/)
A family who eats wasted and parched rice

in Indonesia




(source: http://ibahbaek.wordpress.com/)





Based on those facts, I commit to reduce my foodprint, I hope you do too! If food had feelings, I believe that they would be sad, disappointed, and would cry if we waste them and they would be prefer to be eaten by the needy. Like Elizabeth Gilbert wrote,
"I am a better person when I have less on my plate." Let's be a better person by doing:

THINK

.

EAT

.

SAVE

and reduce our foodprint!
Information:
*Indonesian: friends who live in Bandung, Jakarta, Padang, Surabaya, Medan, Tasik, Yogyakarta, Bogor, Semarang
*European: friends who live in France, the Netherlands, Belgium, United Kingdom, Spain, Norway, Switzerland, Italy